Good morning!

This week Upset The Rhythm announced our forthcoming album by Apostille. Alongside running his own DIY record label, Glasgow native, Michael Kasparis has spent the last few years making forays into the realm of hardcore punk with his groups Anxiety and The Lowest Form. Throughout all this, his solo electronic venture, Apostille has continued to evolve with each twist and turn of the world. His audacious 2015 debut album 'Powerless' self-released through Night School set the template by hooking up his honest delivery to some manic expositions in electronic pop.
Now, Apostille's intrepid new album
Choose Life
updates the mission statement with its courageous intent to connect, becoming a triumph of substance. 'Choose Life' will be released on LP, CD and digitally through Upset The Rhythm on June 8th, plus our webshop has just opened it's
pre-order
for a special limited transparent red vinyl version of the record too. Here's the first track to greet the ear from the album, '
Feel Bad
'.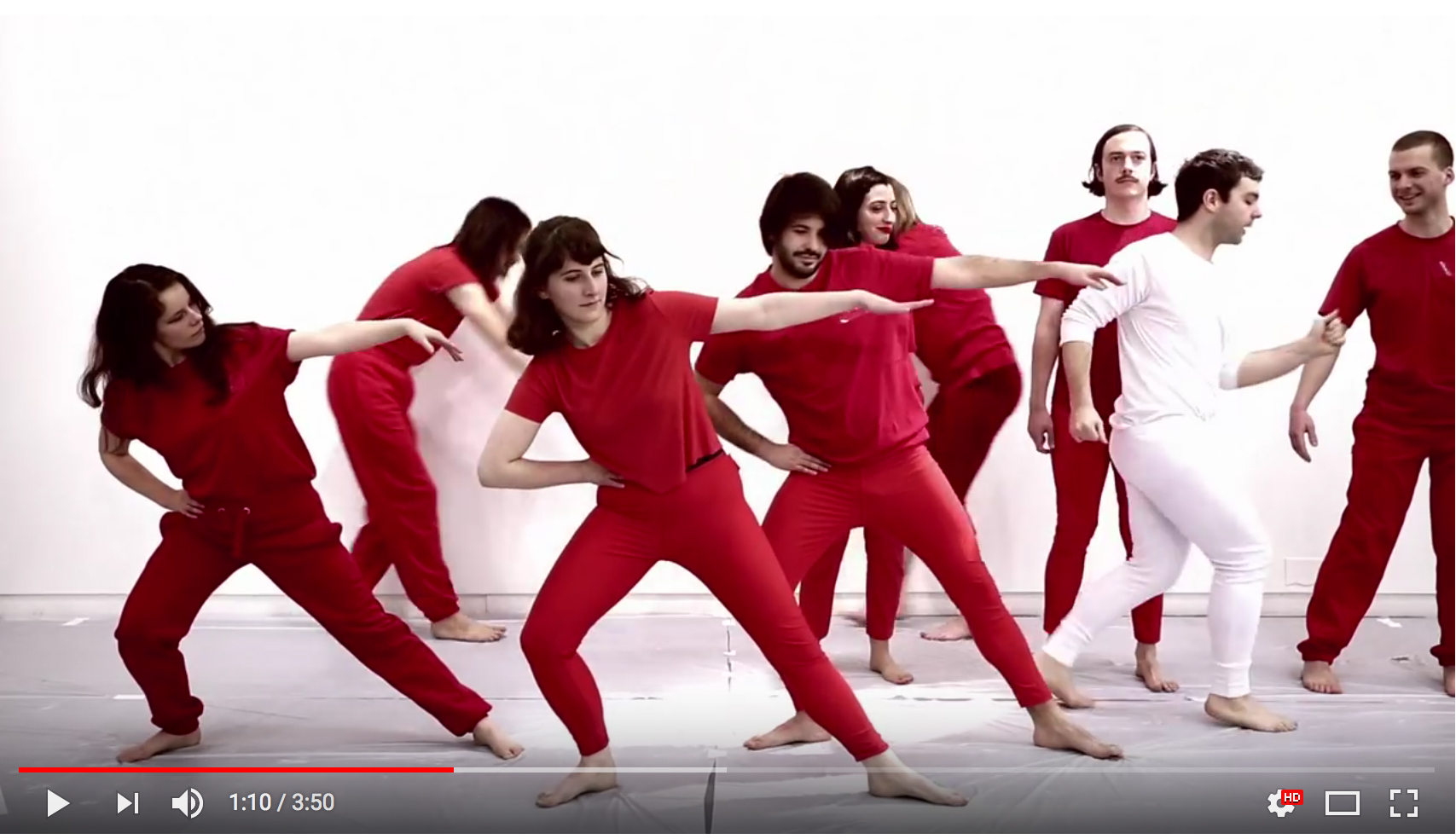 | | | |
| --- | --- | --- |
| | | 'Choose Life' is both the album Apostille chose to make and had to make. He dialled down the clown, built up a new-found confidence in his voice and melody in general and began to feel more at home in the refuge of pop music (with a capital P). As Kasparis explains "Choose Life began as a chronicle of a bad time. Many of the songs were written as some sort of catharsis, an escape from a tumultuous couple of years. The album title was intended as ironic at first but as the writing process went on the album began to feel more playful, I was finding revelatory threads in it I hadn't intended. Choose Life became an imperative." All the truest pop music speaks to us of escape and through this new album Apostille allows its transformative power to fully manifest. It's an album full of life and energy, as disobedient as it is heroic in its pursuit of liberation. |
This weekend is going to be a very 'Chris Corsano & Bill Orcutt' weekend in London! On Saturday night the electrifying guitar-n-drums duo kick off their short European tour at The Lexington with a performance of their mind-frying, polyrhythmia, intersecting improv-jazz, acerbic noise and free-punk. This duo's performances always leave you breathless, it's going to be totemic! In support we have the excellent vocal/drum tessellations of Nottingham's Rattle who entrance and intrigue in equal measure.

Then on Sunday at The Islington, Bill and Chris will perform again, this time presenting two rare solo sets more electronic in mindset. These are the only two concerts in the UK for the pair, plus they're bringing over copies of their exclusive new tape 'ONE DOLLAR HIT$' for these shows too. Tickets are available for both in the links found below, with live music starting each night from 8.30pm. Read on for all the particulars.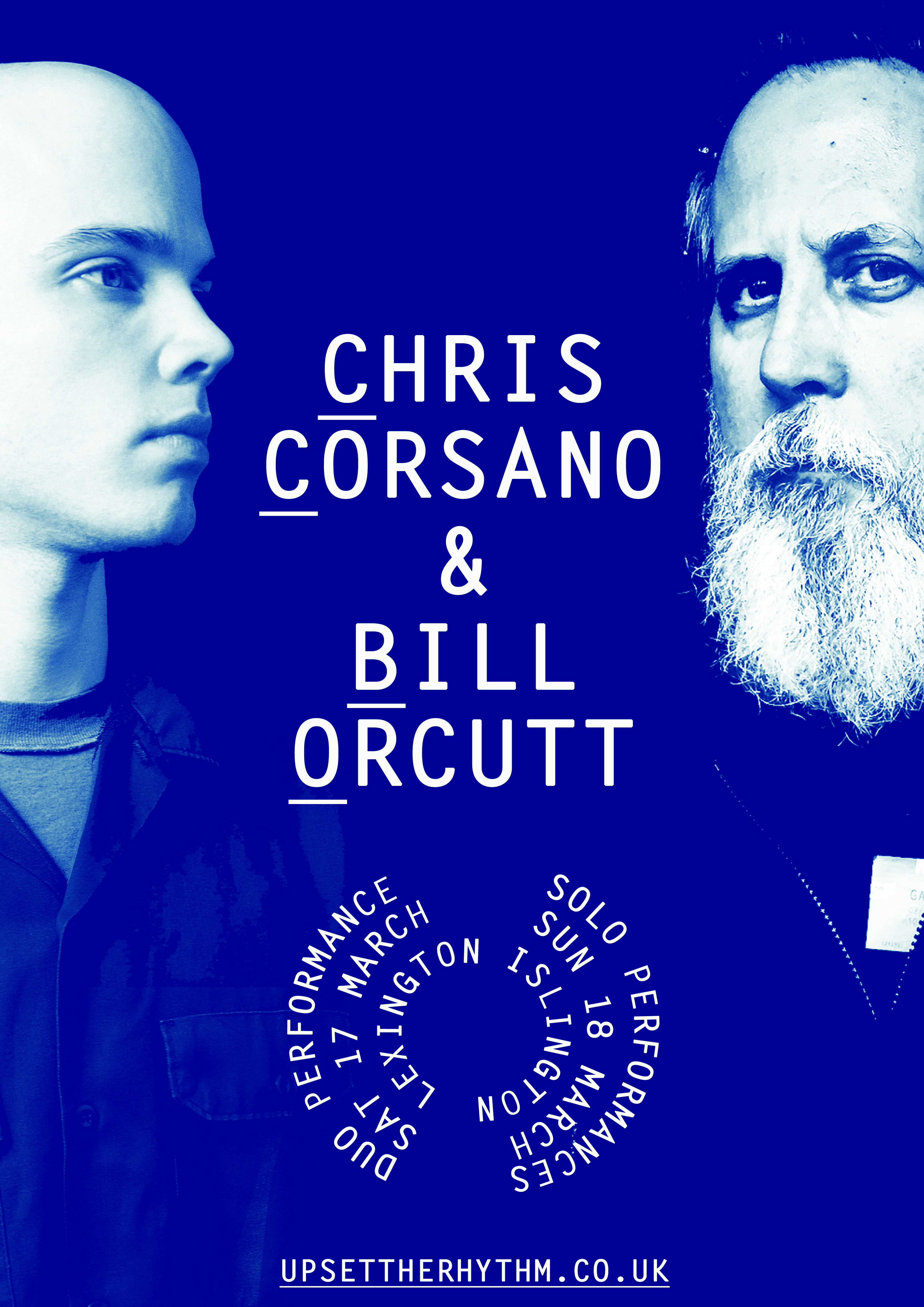 Upset The Rhythm presents…
CHRIS CORSANO & BILL ORCUTT DUO
RATTLE
Saturday 17 March
The Lexington, 96-98 Pentonville Rd, Angel, N1 9JB
7.30pm | £12 |
TICKETS
CHRIS CORSANO and BILL ORCUTT
have spent the last five years flaying eardrums and blowing minds worldwide with a wildly polyrhythmic, high-register wail that splits the difference between rock, noise and jazz. As a co-founder of free-punk demolition crew Harry Pussy, Orcutt inspired entire genres of noise rock, and a decade after Harry Pussy's demise, re-emerged as a solo performer, creating a singular guitar lexicon suited for both discursive improvisation and cracked reinvention of the American songbook. Chris Corsano is the rim-batterer of choice for some of the heaviest contemporary purveyors of both jazz (Evan Parker, Paul Flaherty, Joe McPhee) and rock (Bjork, Sir Richard Bishop, Jim O'Rourke), and is a formidable solo performer in his own right. When playing as a duo their avant drum-and-guitar improvisations provide the illusion of chaos. The longer you listen however to the onslaught of drum rolls and pock-marked notes, the more the communication (and, what's more, control) become abundantly clear. Their explosive mayhem has been documented on Orcutt's Palilalia label over the course of several live releases, most recently on the double LP "Live at Various/Various Live". Their first ever studio recording is scheduled for release later this year.
https://youtu.be/9kMo7hrR5qQ
RATTLE
are a Nottingham based duo, Rattle focus almost exclusively on drums and more drums, beneath a delicate overlay of vocal harmonies and percussive effects. Formed by Katharine Eira Brown (also of Kogumaza) and Theresa Wrigley (also of Fists), Rattle began as an experiment in crafting rich songs and melody using drums and voice alone. Their music weaves and intertwines post-punk, minimalism and experimental rock, through off-kilter rhythms, patterns and counter melodies. Often starting by picking out the ghost notes from the drums to develop a melody, the song then reveals itself in rounds and harmonies with layer upon layer of rhythm and vocal, lending a choral feel to some of the tracks. Rattle effortlessly blend the avant-garde with irresistible melodies and hypnotic drum beats, using rhythm and harmony to create a refreshing sound that is utterly new - a pretty rare feat these days when we're saturated with so much music. Rattle's debut self-titled album will be released on Upset The Rhythm and I Own You, look out this Summer for it's follow up.
+ + + + + + + + + + + + + + + + + + + + + + + + + + + + + + + + + + + + + + + + + + + +
Upset The Rhythm presents…

BILL ORCUTT (SOLO)
CHRIS CORSANO (SOLO)
Sunday 18 March
The Islington, 1 Tolpuddle St, Angel, London, N1 0XT
7.30pm | £12 |
TICKETS
BILL ORCUTT
has been developing an open source computer music program called "I Dropped My Phone the Screen Cracked" since 2014 and has employed it to record two recent LPs, 2016's "Cracked Music" and 2017's "An Account of the Crimes of Peter Thiel and His Subsequent Arrest, Trial and Execution" which Wire magazine described as "maddening", "hypnotic" and "oddly pleasant." For this solo performance, Orcutt will present the UK premiere of a new algorithmic piece for Cracked entitled 'Neu Bros/OK Phone/Rural Beatles'.
http://palilalia.com/

CHRIS CORSANO
is arguably the most riotously energetic and creative drummer in contemporary free jazz, for this rare solo set he strips things back to just the bare minimum. His amplified hi-hat set-up first debuted at the No Fun Fest in 2009 and has resurfaced only rarely since. Tiny Mix Tapes described the performance as "nothing short of hi-hat surgery. The hats stood alone, contact-mic'd, amped, and ravaged with distortion; Corsano tore in with sticks, mallets, and metal rods, prying tones from the bowels no one knew existed". His work with Mick Flower, Paul Flaherty, and others is well known; alone, though, Corsano answers to no one, and his clinic realigned every facile give-the-drummer-some heuristic underwriting our approach to percussive or non-tonal technique.
http://cor-sano.com/
Thanks for spending your time with us,
See you over the weekend!
Upset The Rhythm
UPSET THE RHYTHM
UPCOMING SHOWS
BILL ORCUTT & CHRIS CORSANO:
* DUO PERFORMANCE
RATTLE
Saturday 17 March
The Lexington, 96-98 Pentonville Rd, Angel, London, N1 9JB
BILL ORCUTT & CHRIS CORSANO:
* SOLO PERFORMANCES
Sunday 18 March
The Islington, 1 Tolpuddle St, Angel, London, N1 0XT
BRIGID MAE POWER
DANIEL O'SULLIVAN
Tuesday 27 March
Servant Jazz Quarters, 10A Bradbury Street, Dalston, London N16 8JN
JOSHUA ABRAMS - NATURAL INFORMATION SOCIETY
Monday 2 April
OSLO, 1a Amhurst Road, Hackney, London, E8 1LL
NO AGE
MIAUX
VITAL IDLES
Wednesday 4 April
Bethnal Green Working Men's Club, 44 Pollard Row, London, E2 6NB
JAMIE STEWART (Xiu Xiu)
ERIC CHENAUX
Monday 9 April
The Lexington, 96-98 Pentonville Rd, Angel, London, N1 9JB
ED SCHRADER'S MUSIC BEAT
Monday 7 May
Moth Club, Old Trades Hall, Valette St, Hackney Central, London, E9 6NU
NAP EYES
HALEY HEYNDERICKX
Tuesday 8 May
OSLO, 1a Amhurst Road, Hackney, London, E8 1LL
7.30pm | £10 |
TICKETS
MATANA ROBERTS & KELLY-JAYNE JONES
COBY SEY
Wednesday 9 May
Ghost Notes, Peckham Levels, 95A Rye Lane, Peckham, London, SE15 4ST
PROTOMARTYR
ANA DA SILVA
RATTLE
Thursday 10 May
Scala, 275 Pentonville Road, King´s Cross, London, N1 9NL
MARY OCHER
Friday 18 May
Cafe OTO, 22 Ashwin Street, Dalston, London, E8 3DL
7.30pm | £8 |
TICKETS