Afternoon everyone!

We have two top Upset The Rhythm shows coming up this following week for you. Tomorrow we pitch up at The Dome for nothing short of an extravaganza with Priests, Downtown Boys and Big Joanie all performing!

If you like your rock music to be truly radical and harness the personal politic like a force of nature then this is the show to end all shows, it's going to be nothing short of an electric whirlwind. Think amps on from 8.15pm, tickets available on the door from 7.30pm.
Then next Tuesday we find ourselves in high spirits at The Shacklewell Arms for an evening of dub-damaged bedsit pop ambience and spooked imagism from Carla dal Forno and Protection Spells too.

Please read on for the whole scoop on both of those ventures, plus our show programme concludes this message too.
Donning our jubilant record label hat for one moment,

The World

's debut album 'First World Record' is now shipping from our

webstore

and will be hitting the shops this Friday.

Here's a photo of the LP in all its transparent glory taken during the glowering skies of yesterday's storm, hence the apples on the ground too!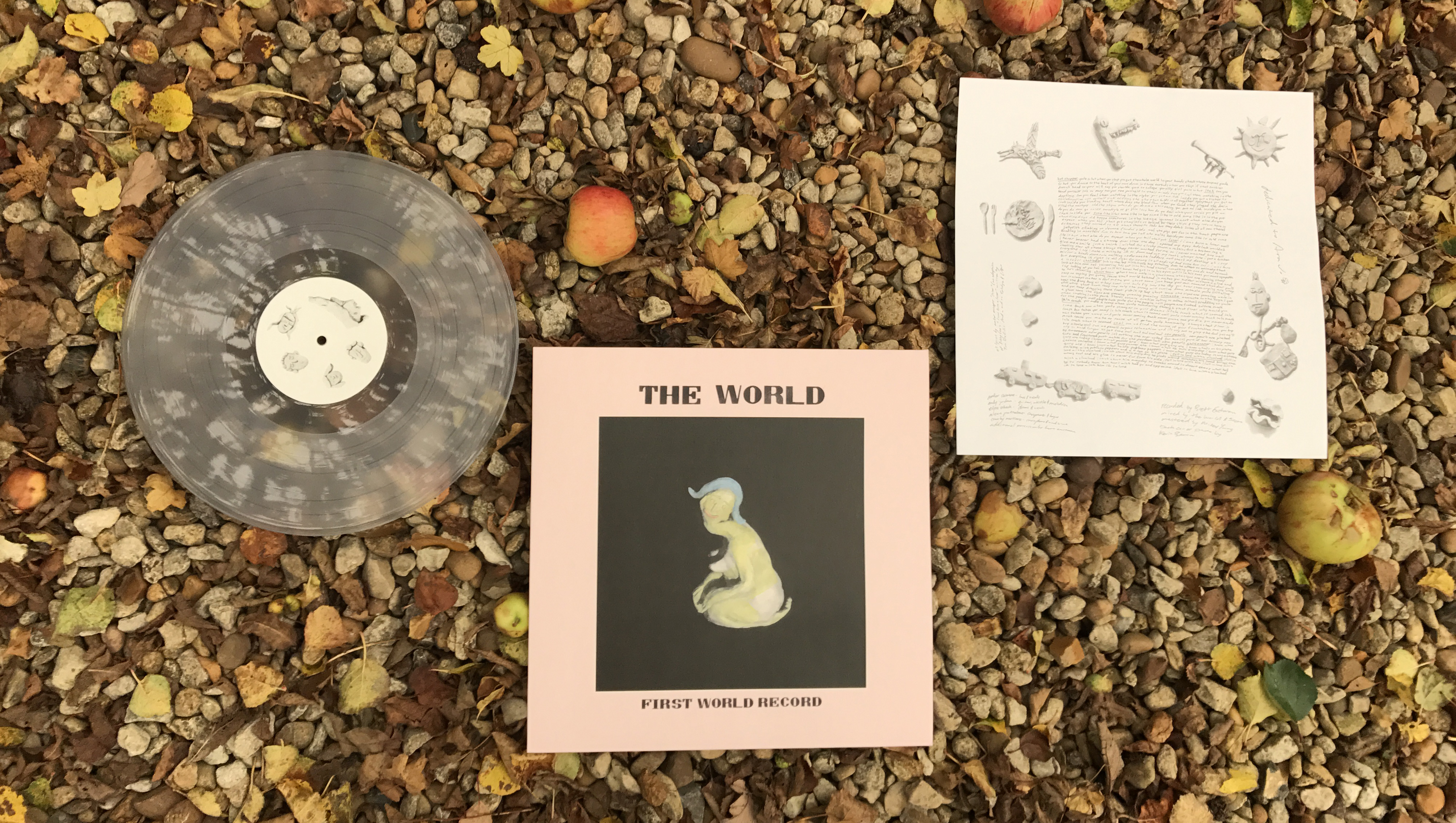 The World are five people from Oakland, California who write rowdy dance music with a post punk tool kit and an insightful yet short attention span. Their songs typically clock in around two minutes long and are a wild head-rush of Amber Sermeno's funk-minded bass lines and shuddering guitar courtesy of Andy Jordan. Amber also sings alongside Elyse Schrock, who anchors their propulsive songs with some supremely robust drumming. The steady beat is bolstered by Stanley Martinez's flurrying saxophone melodies and Alexa Pantalone's expansive bongo rhythms. Alexa also plays sax on half of the songs too, contributing further to the complex interplay of instruments that make The World's music so immediate, compelling and groove conscious.
Here's the yogic crustacean-centric video for recent single 'Namaste' and a peak at their European tour dates too!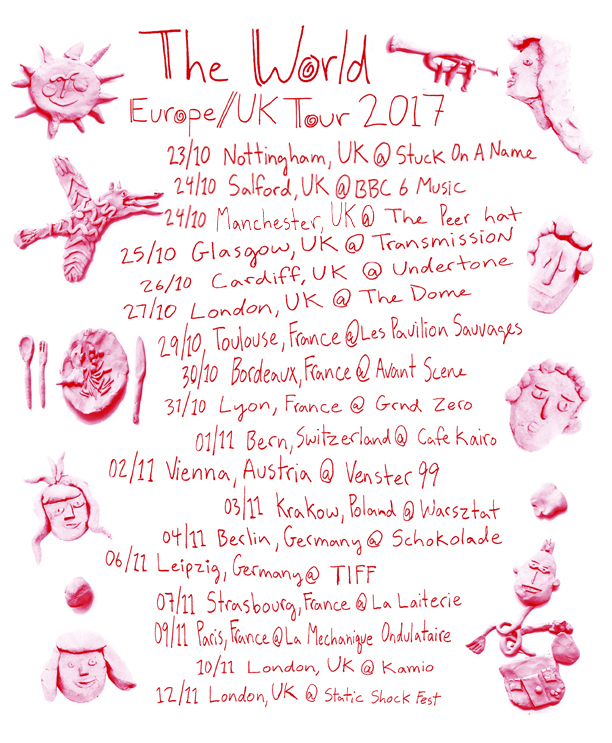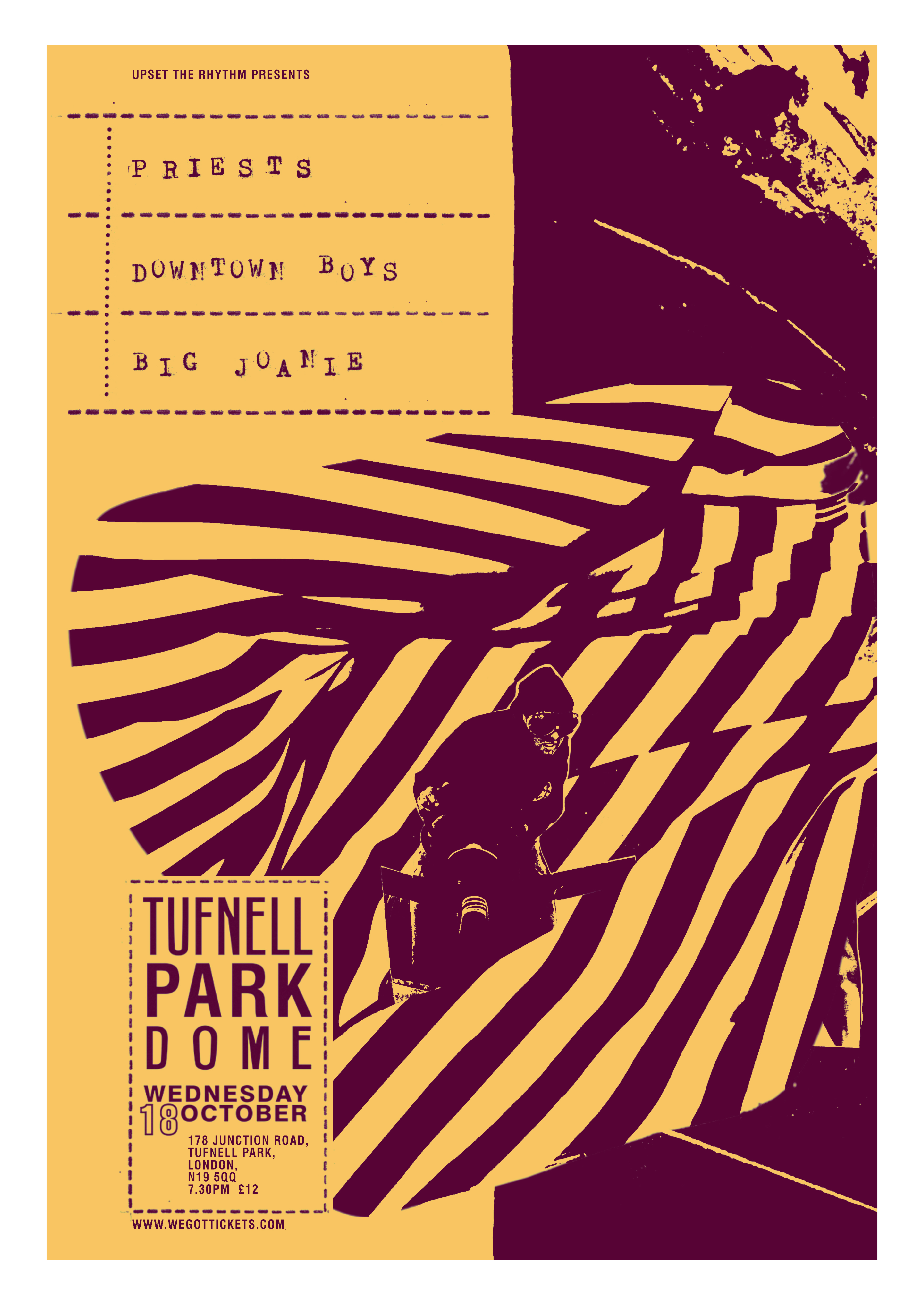 Upset The Rhythm presents...
PRIESTS
DOWNTOWN BOYS
BIG JOANIE
Wednesday 18 October
Tufnell Park Dome, 178 Junction Road, Tufnell Park, London, N19 5QQ
7.30pm | £12 |
TICKETS

PRIESTS are Daniele Daniele (drums), Katie Alice Greer (vocals), G.L. Jaguar (guitar), and Taylor Mulitz (bass). Formed in 2011 in Washington DC, the band has proven a valuable force for strangeness in a city that is increasingly terraformed by norms. At a time when few groups were making serious moves beyond the Beltway, Priests toured throughout North America and Europe. More significantly, they've helped to raise the general standard of show-going at home through cassettes and singles released on Sister Polygon, including music by bands like Sneaks, Snail Mail, Pinkwash, Cigarette, Downtown Boys, and numerous Priests-affiliated groups like Gauche and Flasher. Still, even amidst thriving hometown creativity, Priests possess a singular gravity. They are physical and combustible, urgent and visceral. This January, Nothing Feels Natural, the band's first full length LP was released on their own label Sister Polygon Records. It's the bands most stylistically diverse set of songs to date, expanding on their lo-fi post-punk bona-fides with ideas drawn from pop, R&B, and industrial noise. Thematically, Nothing can be understood as a series of vignettes - nine stories that crystallize into a bigger picture about the economics of human relationships, the invisibility of feminized labor, and the dual purpose of art for both the group and the individual. It's a record that thrives amid the tension between that what is valued and what is dismissed; between what is desired and what is presented.
DOWNTOWN BOYS use their ferocious energy and powerhouse live shows to unite crowds in the struggle to smash racism, queerphobia, capitalism, fascism, boredom, and all things people use to try to close our minds, eyes and hearts. The Providence, RI band have just announced their third album, Cost of Living, to be released August 11th on Sub Pop. The new album - the follow-up to their critically-acclaimed sophomore album, 2015's Full Communism - is at once incendiary, cathartic, and fun, melding the band's revolutionary ideals with boundless energy. Produced by Fugazi's Guy Picciotto, one of indie-rock's most mythological figures (he also produced Blonde Redhead, The Gossip, and others), Cost of Living shows a sense of maturity without compromising the band's righteous assault and captivating presence. The position of Downtown Boys has been clear since they started storming through basements and DIY spaces with their radically-minded, indefatigable rock music: they are here to topple the white-cis-het hegemony and draft a new history. This is how Downtown Boys began, and their resolve has only strengthened as both their sound and audience have grown. Like the socially conscious groups of years past, from Public Enemy to Rage Against the Machine, Downtown Boys harness powerful sloganeering, repetitive grooves, and earworm hooks to create one of the most necessary musical statements of today.
BIG JOANIE are like The Ronettes filtered through 80s DIY and riot grrrl with a sprinkling of dashikis.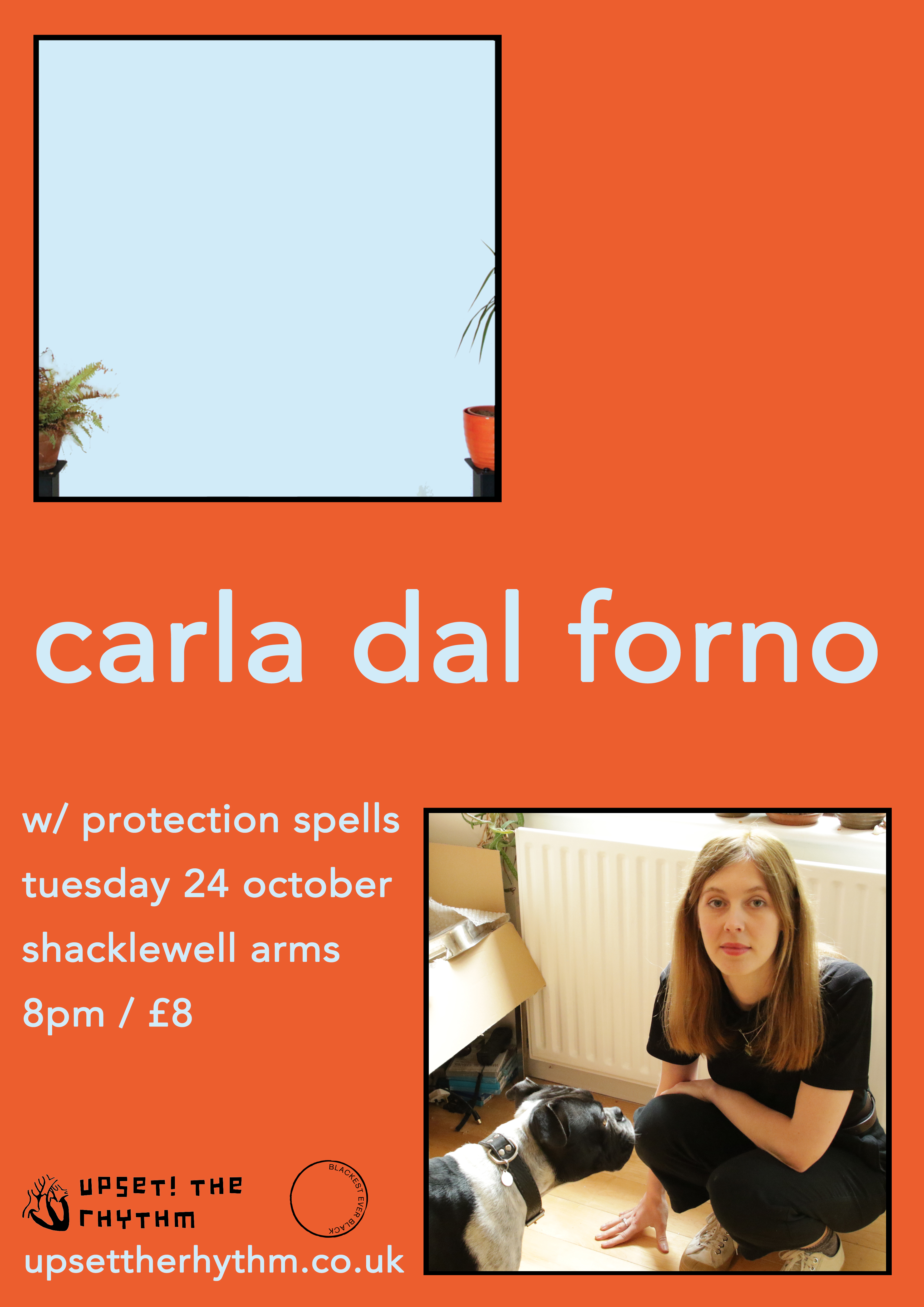 Upset The Rhythm presents...
CARLA DAL FORNO
PROTECTION SPELLS
Tuesday 24 October
The Shacklewell Arms, 71 Shacklewell Lane, London, E8 2EB
CARLA DAL FORNO specialises in obliquely confessional dispatches from the edge zones of feeling. Her new EP 'The Garden' marks both a refinement of the dub-damaged, inward-looking bedsit pop essayed on her 2016 debut album 'You Know What It's Like', and an evolutionary leap. More than anything, it represents the full flowering of an effortlessly brilliant and uniquely resourceful songwriter, singer and producer - one with the uncanny gift of creating music which feels immediately as though you've known it, or it's known you, all your life. While there is warmth and intimacy to come, The Garden opens with a cold hard stare: 'We Shouldn't Have To Wait', an unexpectedly confrontational companion piece, or response, to her own first single and calling card, 'Fast Moving Cars'. This is not a dazed reverie, but forceful, fatalistic, void-chasing drone-rock led by a stalking, venus-in-furs bassline that levels everything in its path. No longer gazing from afar at fast moving cars, but behind the wheel of one, driving pretty recklessly. No particular destination in mind, but impatient to get there. New EP The Garden (out Oct 6th on Blackest Ever Black) is a compact masterpiece from a remarkable artist who - frighteningly, excitingly - has only just begun to hit her stride.
PROTECTION SPELLS are a London based band making minimalist pop music. Brought together in 2016 by their mutual love of each other, they spend their time bleaching runes into t-shirts and trying to figure out if Imagism can be applied to music. Their music has been described as "a witch in an echo chamber" and "like a shrine maiden with the irritability of a kitten".
Thanks for reading, see you tomorrow!
Upset The Rhythm
x
UPSET THE RHYTHM
UPCOMING SHOWS
PRIESTS
Wednesday 18 October
Tufnell Park Dome, 178 Junction Road, Tufnell Park, London, N19 5QQ
7.30pm | £12 |
TICKETS
CARLA DAL FORNO
PROTECTIVE SPELLS
Tuesday 24 October
The Shacklewell Arms, 71 Shacklewell Lane, London, E8 2EB
JOHN MAUS
GARY WAR
Thursday 26 October
The Victoria, 451 Queensbridge Rd, Dalston, London, E8 3AS
7.30pm | SOLD OUT
JOHN MAUS
THE WORLD
GARY WAR
Friday 27 October
Tufnell Park Dome, 178 Junction Road, Tufnell Park, London, N19 5QQ
7.30pm | £12 | SOLD OUT
SHOPPING
GAUCHE
THE WORLD
Friday 10 November
Kamio, 3 Rivington Street , London, EC2A 3JL
8pm - 2am | £9 |
TICKETS
MOUNT EERIE

Monday 13 November
Tuesday 14 November
St John on Bethnal Green
200 Cambridge Heath Rd, Bethnal Green, London, E2 9PA
7.30pm | £15 |
TICKETS
PROTOMARTYR
SAUNA YOUTH
BOMBER JACKETS

Tuesday 14 November
Tufnell Park Dome, 178 Junction Road, Tufnell Park, London, N19 5QQ
7.30pm | £12 |
TICKETS
ESCAPE-ISM

(Ian Svenonius)
Saturday 18 November
The Islington, 1 Tolpuddle St, Angel, London, N1 0XT
7.30pm | £9 |
TICKETS
FUTURE ISLANDS
Monday 20 November - SOLD OUT
Tuesday 21 November - SOLD OUT
In collaboration with Parallel Lines
O2 Academy Brixton, 211 Stockwell Rd, Brixton, London SW9 9SL
ROY MONTGOMERY
ALEXANDER TUCKER
Thursday 23 November
In collaboration with Café OTO
Cafe OTO, 22 Ashwin Street, Dalston, London, E8 3DL
7.30pm | £10 |
TICKETS
RICHARD DAWSON
(Live band show)
Wednesday 20 December
Islington Assembly Hall, Upper Street, Islington, London, N1 2UD
7pm | £15 |
TICKETS